YF series coiling machines are the latest types of their kinds. Designed and developed by our own technicians and staff after years of practice, combined with the characteristics of textile industry, this cross winding machine has the advantages of stable performance, easy operations and reasonable prices, etc. Besides , these textile winders are equipped with the upgraded digital length and tension controller, which has greatly improved the quality and accessibility of the machines and reduced the labor cost of operation.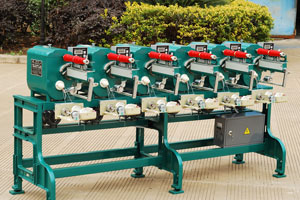 Traditional winding machine is used for winding different kind of yarn/thread on different type of cone/bobbin. These cone winding machines are suitable for winding sewing thread, embroidery thread, cotton yarn, polyester yarn, viscose yarn, spun rayon thread, pp thread, nylon, silk and so on. And the bobbin can be cone type, king spool, cylinder type, etc.. According to the length of the thread winded on the bobbin, the most popular length includes: 2feet(50mm), 3feet(75mm), 3.8feet(95mm), 4feet(100mmk), 5feet(125mm), 6feet(150mm),etc.
These bobbin winding machines are semi-automatic, and the winding speed is around 130m/min.
The yarn winder has 6 spindles, normally each spindle can wind 2 cones, so totally one machine can wind 12 cones at the same time Upper tray and back cover is the additional devices. The spool winder machine can be customized according to the customers' requirement.